by Raphael Mak, founder of Metviplay
Stockholm is a nice city in the Nordics to visit – mostly in the summer they say. Yeah, everyone loves the sunshine in the summer with sunsets at 10pm. But what a waste – Stockholm is beautiful in the other seasons too! Especially winter. What can you do in Stockholm in the winter dark? We have three suggestions:
1. Watch the lights
Let's be frank: darkness is beautiful. Especially with all the lights around town. Winter in Stockholm is all about making fun with lighting – businesses compete for customers with their neon signboards, artists create artwork with light, and citizens take warmth at fireplaces indoors and outdoors.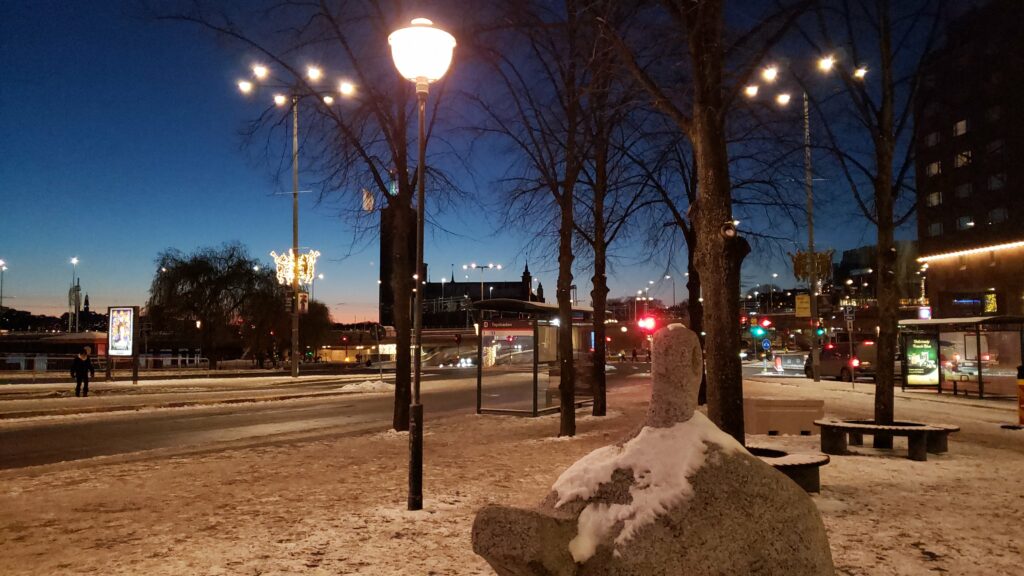 Swedish winters can be awfully dark with sunsets at 2pm (in Stockholm around the Winter Solstice), but once you see the spectacle of lights all around Stockholm, you'd feel the very warmth that would mean everything you want in the winter cold.
The Nobel Week Lights, in particular, is a splendid collection of light art all around Stockholm that's staged around the Nobel Prize award ceremonies in December. Did we mention that December is also the time for another important Scandinavian festival centered around light, the feast day of St. Lucia?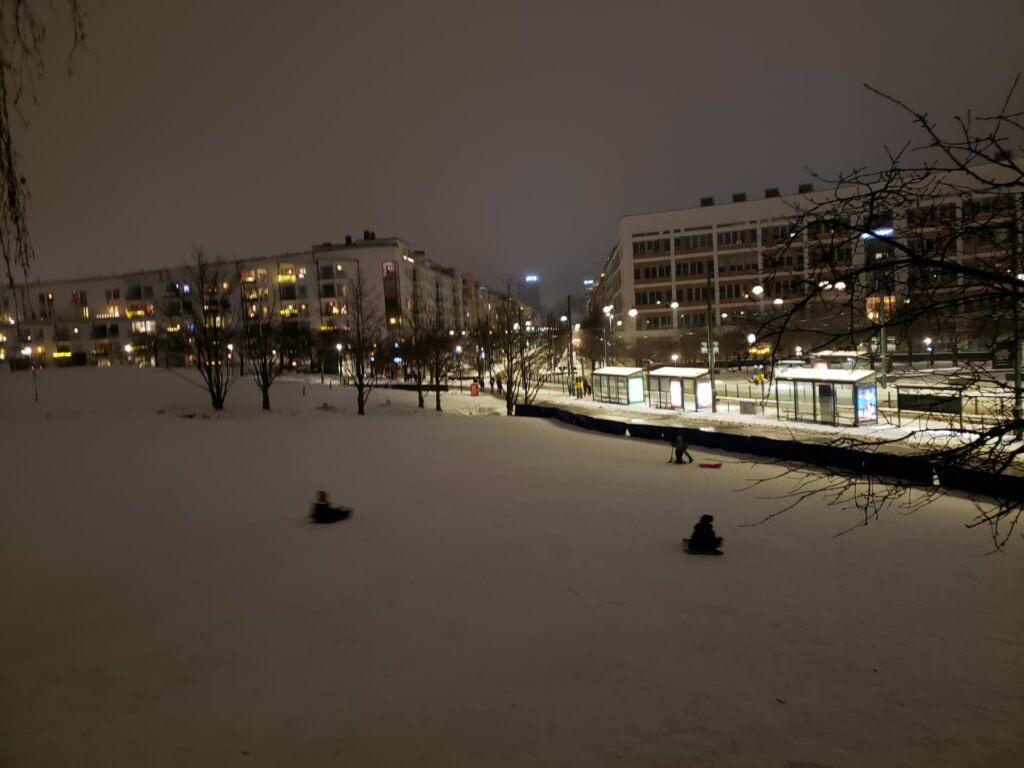 2. Play with snow
Stockholm has quite a lot of snow in the winter. One of the joys living in Stockholm is that you get to play wither the snow – for example sliding down the snow, skiing to work (before the snow plows come), and of course snowmen and snowball wars! Do as the Stockholmers do – play with snow together with us!
For some winter exercise, you can try Nordic skiing (cross-country skiing) at a great many skiing tracks around the area. The nearest is just on the edge of downtown at the good ol' Stadium of the 1912 Olympics (if you don't mind circling inside the stadium). Norra Djurgården, just outside Stockholm University, has a good ski track circuit too. In the suburbs there are many more tracks, just a train or bus ride away for around half an hour.
While it's hard to guarantee the presence of snow on a certain day – there is normally ample snow for several weeks in a row, once or twice in the season. February is a good bet, although in 2022 it snowed for a good part of December as well. Exceptionally, the snow can be so heavy that skiing becomes the one practical way to get to work.
Metviplay organizes a Winter Forest Orienteering Game – explore the dark forests with strong Lumonite headlamps, possibly in the beautiful snow!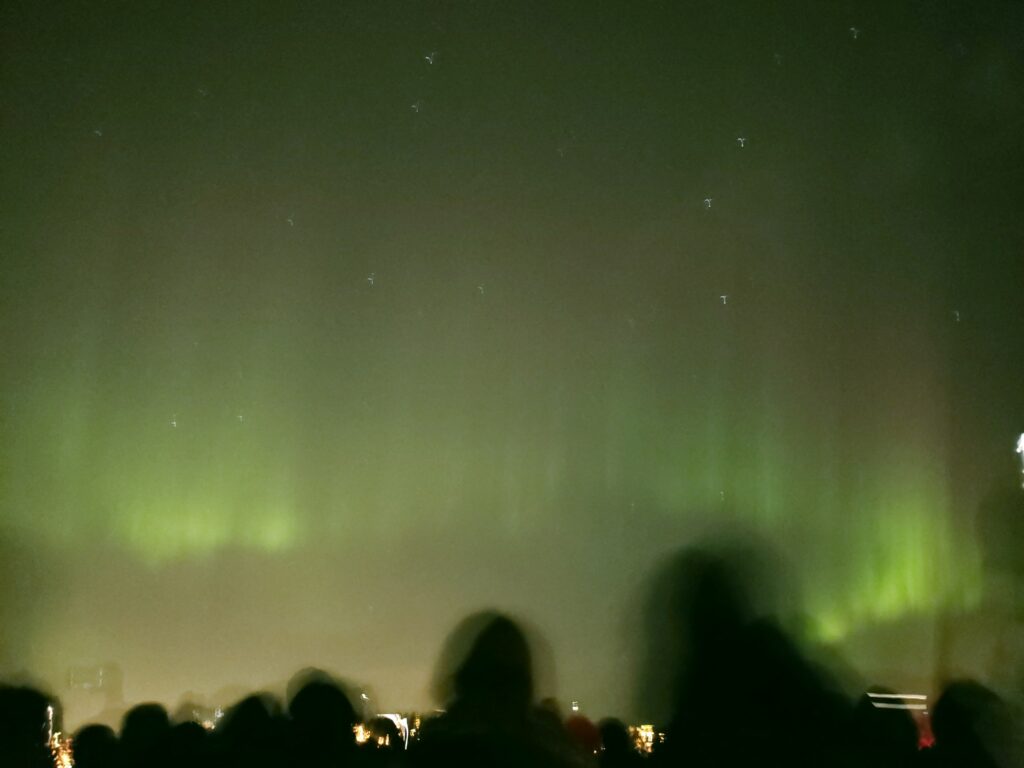 3. Watch the northern lights
Oh yes – now you're coming to a Nordic country and all you can think of is the northern lights (aka aurora borealis). Yes – Stockholm gets quite some northern lights so you don't necessarily have to travel all the way north to Lappland (Sápmi). It's just that its sometimes a hit-and-miss – just like snow – but ultimately more than worth it.
What's more – solar activity is increasing right now and it'll peak around 2024/2025. This means you're going to see more and more northern lights in Stockholm right now and a few years forward. Great time to plan for a trip to Stockholm!
Of course, northern lights are a hit-or-miss – but you can summon the aid of forecasting tools through the Internet and mobile apps, plus a little decision making sense. Once you decided to try catch the northern lights, then it's about finding a hill with a clear view to the north, and fingers crossed!
Conclusion: plan a trip to Stockholm outside of summer!
Stockholm is a beloved tourist destination in the summer, but have you tried visiting it in the other seasons? Winter Stockholm is as lovely as in summer and you should definitely give it a try. Check out our activities at Metviplay all year round!